POOL "CHIP" TOURNAMENT FORMAT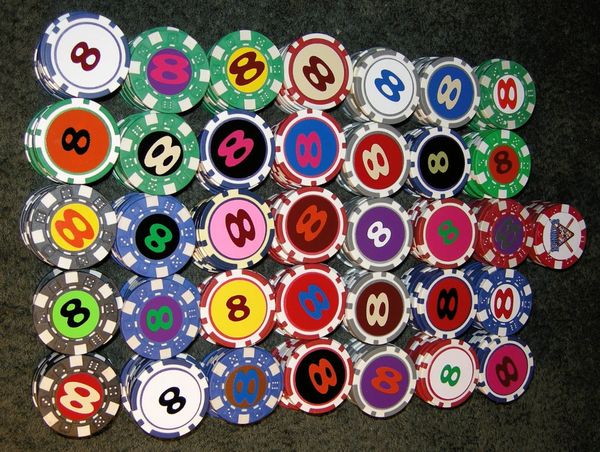 POOL "CHIP" TOURNAMENT FORMAT
#1000 POOL "CHIP" TOURNAMENT FORMAT -  HIGHLIGHT AND PRINT THIS INFO, IT'S FREE OR JUST (Just click the drop down arrow and print). This is a great pool tournament format. It gives the lower skilled players an edge against the better players. Please respond to apolitte@qxtender.com with Comments, corrections, suggestions, ideas etc.
IF YOU CANNOT PRINT A COPY, JUST SEND ME YOUR EMAIL ADDRESS TO apolitte@qxtender.com
POOL "CHIP" TOURNAMENT FORMAT
8-BALL    9-BALL   10-BALL
A great format for low skill leval players
What makes a chip tournament unique is the format. All players receive numbered poker chips based on an established skill level. The weaker players get more chips and the higher level players get less chips. Each game starts with a flip for the break and play one game. The loser forfeits one chip to the tournament director and goes on a waiting list for the next assigned table, the winner stays on that table and keeps all his chips.
START: When signup ends there is a drawing to decide each players place in the rotation, this is the order that the tournament starts.
If you win, you may lose 1 chip the next time you play, If you have not won in several weeks you may get an extra chip the next time you play. Number of chips usually range from 3 to 10. "it is rare that someone can win with 3 chips, especially in 9-ball" even a Pro would be an underdog with 3 chips in 9-ball. The last player with chips is the winner.
The best advantages to this format are:
#1 There is a lot of weaker players that would not normally play in a tournament but no matter what, they are going to play a lot of pool for their $10.00 (entry fee and sometimes includes green fees)
#2 You are playing everyone even so there is usually no hard feelings because someone is mal-handicapped. "until the very end of the tournament you may have 2 chips and your opponent is a 6 or higher SL".
The only disadvantage is, it is very important to keep track of everyone's chips (unfortunately, there are some dishonest people out there) It is not as difficult as it sounds. NOW with the numbered chips, it is easy to keep up with, chips, players etc.
Be SURE, that each Loser forfeits 1 chip, THIS IS IMPORTANT
EXAMPLE:
Players signed up

1-JIM                      9-JAMES
2-JOE                    10-VINCE
3-BILL                    11-TOM
4-RON                   12-TIM
5-AL                      13-ART
6-JERRY                14-SUE
7-KEN                   15-PAT
8-PAUL                   16-KRIS
NUMBERS as drawn
6-3-4-7-16-12-10-5-8-11-14-1-2-9-13-15
[ TABLE 1]    [TABLE 2]     [TABLE 3]    [TABLE 4]
   JERRY             BILL               RON             KEN
   KRIS                TIM                VINCE          AL
   PAUL                TOM              SUE               JIM
   JOE                 JAMES           ART               PAT
The first 2 players start play on the assigned table. Loser forfeits 1 chip to the tournament director, and the winner stays on the same table until he loses.
SO, Table #1 LOSER is transferred to the bottom of the list at table #2, table #2 loser to bottom of the Table #3 list,  table #3 loser to bottom of table #4 list and table #4 loser to bottom of #1 list.
Example, Bill and Tim played on table #2, Bill lost (Cross out his name on list #2 and circle Tim's name, Tim is the winner and stays on that table), Bill forfeits 1 chip to the tournament director and is placed on the bottom of the list for table #3. He now waits until his name gets to the top of the list and plays his next game.
Suggestions for Skill Level / chip ratio:
SL-8 & 9 ------- 3 CHIPS
SL-7        -------4 CHIPS
SL-6        ------- 5 CHIPS
SL-5        ------- 6 CHIPS
SL-4        --------7 CHIPS
SL-2 & 3 --------8 CHIPS
DATE______________
POST TOURNAMENT RECORD
                                NAME          PD             SL           CHIPS        WIN        LOSS 
If you want to give this game a try and are traveling northbound on I-55 in Missouri stop at KENNYS in Barnhart, JUST SOUTH OF ST LOUIS. His chip tournaments are 8-BALL Friday evening's, Sign up at 7:00 PM and play at 7:30, and 9-BALL Sunday evenings, sign up at 7:00 PM and play at 7:30. (KENNY MATCHES THE POT).
The address is 7045 HWY 61-67, Barnhart, MO. 63012
POOL CHIP TOURNAMENT  "CHIPS"
Pool tournament chips sets are 36 sets of 8-chip stacks. They are made with poker chips, I make them in stacks of 8 but this can be any amount of chips per stack. Each stack has identical chips and no chip stack is the same. This eliminates cheating or passing chips to a friend.
I also make PLAYER DRAWING chips sets, 5-PC, 36-PC or any amount for $1.00 per chip plus postage.
See them on www.facebook.com/qxtender  search qxtender, or Pinterest search qxtender
Please send me an email for a copy :
apolitte@qxtender.com
www.facebook.com/qxtender
www.pinterest.com - QXtender
IT IS VERY IMPORTANT TO KEEP SKILL LEVELS IN CHECK
Reviews