#9761-W 1-Pool Cue JUMP-JOINT 5/16-18 thread extension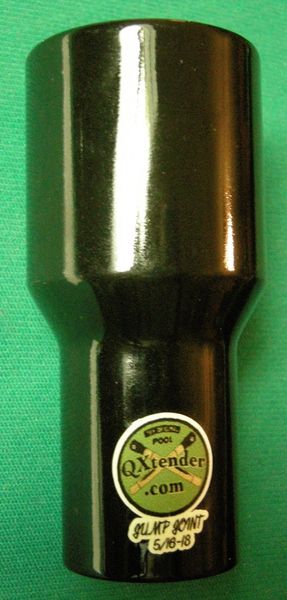 #9761-W 1-Pool Cue JUMP-JOINT 5/16-18 thread extension
#9761 1-"QXTENDER", JUMP-JOINT Pool cue extension. Here is a new and unique pool playing tool from QXtender.com. This one has 5/16-18 threads, (SEE CHART BELOW FOR COMPATABLITY)
The JUMP JOINT is designed to convert the butt of your jump or jump break cue into a pool cue extension. It is a compact 3-1/2" x 1-1/2", has a soft liner, threaded to fit your cue butt and is very simple to use. Just remove the butt from your jump or jump break cue and screw it into the QXtender JUMP-JOINT, then slip it on your cue making an extension. Slip it on with a straight on push, DO NOT TWIST!, there is no threads here. And it is not designed to support all of the weight of your cue.
At this time I have Jump-Joint's with 3/8-10, 5/16-14 and 5/16-18 thread size in stock.
My standard socket fit's pool cues that have a 1-1/4" diameter butt. Please measure the butt of your cue to be sure of the diameter. IF, this measurement is larger (usually 1-5/16") I will build you a JUMP-JOINT that will fit your cue at no extra charge. (please allow 2 weeks delivery)
This JUMP-JOINT will fit the following cues with 5/16" x 18 threads.
Action, Adam, Athena, Black, Corsair, Ginacue, Huebler, Judd, Longonia, Lucasi, McWorter, Meucci, Meullers, Players, Southwest, Tad, Valhalla, Viking.
(CAUTION) Please be sure to check and order the right thread combination. Several cue makers use different thread combinations

Reviews